Exercise and Incontinence - Consider Pure Barre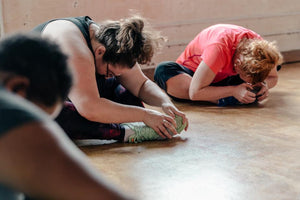 If you are familiar with advice given to those who suffer from incontinence, then you know that exercise is often suggested.  Because some of the contributing factors to incontinence include obesity, extensive sitting, and weak pelvic floor muscles, it's not surprising that even doctors suggest an increase in physical activity. After all, non-invasive, drug-free solutions are always the first things to try.
A broad range of activity has proven successful in affecting weight loss. Additionally, kegels are often recommended by doctors to strengthen the pelvic floor.  However, you may not know about Pure Barre and the belief that it may be able to help reduce incontinence.
What Is Pure Barre?
Pure Barre is an exercise program that has been around for more than 18 years. Over time, it has grown in popularity. In North America today there are more than 500 studios serving over half a million people. 
The reason this workout has a considerable following is likely because of what it offers.  According to their website,  "Pure Barre focuses on small movements that result in big changes. Pure Barre's innovative technique comes in a range of class offerings that target strength, cardio and flexibility for people of all levels, providing clients with self-focused time to transform the body and mind." Additionally, classes may be streamed.
Pure Barre and Incontinence Relief
As mentioned above, exercise (especially those that target pelvic floor muscles, including the well-known kegels) can be helpful in treating incontinence.  According to Radio.com, recently, Dr. Rebeccah Briskin from Henry Ford Hospital launched a study to determine "if Pure Barre — which activates pelvic floor muscles, similar to Kegel exercises  — can treat urinary incontinence." 
Her study focuses on two types of incontinence:  stress incontinence and urge incontinence. According to Dr. Briskin, the study looks to see if regular pure barre exercises (for a period of two months or less) will decrease leakage.
The study will be run across the country. If you are a woman over the age of 18 and are interested in participating, click here.  Questions can be sent directly to Dr. Briskin at rbriski2@hfhs.org. She can also be reached via telephone at 313-932-5733.
AT LIQUAGUARD® WE UNDERSTAND THAT LIVING WITH INCONTINENCE CAN BE EXTREMELY DIFFICULT AT TIMES. ISSUES LIKE URINE LEAKS AND AN OVERACTIVE BLADDER ARE FRUSTRATING.
WE ARE PROUD OF THE PRODUCTS THAT WE PROVIDE. VISIT OUR WEBSITE TO LEARN LEARN MORE. AND, CALL US WITH ANY QUESTIONS. 
WE COMMITTED TO PROVIDING THOSE THAT SUFFER THE HIGH QUALITY PRODUCTS THEY NEED TO LIVE A MORE ENJOYABLE LIFE
---