Managing Incontinence: 5 Valuable Tips for Caring for Those Who Suffer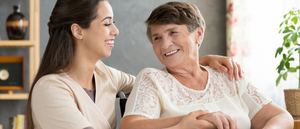 Incontinence, for those who suffer, is incredibly stressful. The anxiety over leakage and often physical discomfort can affect everything they do and impact the quality of their lives.
That said, it is important to recognize that the effects of incontinence are far-reaching. In fact, they impact others in addition to those dealing with this issue, caregivers in particular.
While incontinence does not discriminate and affects both men and women of all ages, many who are personally dealing with incontinence are either older or infirmed.  And, a percentage of them receive some type of assistance from caregivers.  Below we have shared 5 tips for those who care for individuals managing incontinence.
Encourage a Doctor's Visit:

Many who suffer from incontinence are reluctant to share their struggles with anyone, including their physicians. However, incontinence is often a symptom of other medical issues. Physicians can review their experiences, run necessary tests, uncover hidden medical problems and provide valuable advice for the future. Knowing why incontinence occurs can help you provide better care.

Listen and Learn:

Knowledge is power. Understanding both the different types of incontinence as well as the specific issues impacting the person for whom care can help you provide better service in a more relaxed manner.  Do a little research, there is so much available on the internet today.  And talk openly and honestly with those with whom you work. The combination is a key to improving the service you provide.

Travel Smart:

Nobody wants to stay home all day, every day. Packing a change of clothes can help those with incontinence relax, knowing they have a "backup" in case of an emergency.  Consider carrying one set with you, and keeping a small bag with extra pants, undergarments, and a shirt in your car in case you forget. When you can help someone get out of the house and enjoy life the experience will be better for you both.

Eat Well:

Good nutrition is always important.  That said, some foods that are considered healthy can actually irritate the bladder and worsen incontinence. Talk to the physician of the person for whom you care to learn what is best to avoid. Items that tend to make the list include citrus fruits, caffeine, artificial sweeteners, chocolate, and even tomatoes. If you know what NOT to eat, you can provide suggestions, help them make better choices, and manage incidents.

Provide Protection:

Often the fear of ruining furnishings and car cushions is paralyzing for incontinence sufferers.  This concern, which can be overwhelming, is easily alleviated with a bit of preplanning and smart shopping.  There are a host of

amazing products

on the market today; items that can protect mattresses, automobiles, and furniture. Share this information with those in your care and their families. An investment in some quality items can make all the difference in the world. 
Of course, this list is not all-encompassing. As a caregiver sometimes the smallest things can make a difference to those with whom you work.  Take into account the suggestions we have made, and remember that kindness and patience truly go a long way to making someone's life just a little bit better
AT
LIQUAGUARD®
WE APPRECIATE BOTH THE CONCERNS OF OUR CLIENTS AND THEIR CAREGIVERS.  WORKING WITH THOSE WHO SUFFER FROM INCONTINENCE CAN BE INCREDIBLY CHALLENGING, BOTH PHYSICALLY AND EMOTIONALLY. WE ARE PROUD OF THE PRODUCTS THAT WE PROVIDE. VISIT OUR WEBSITE TO LEARN ALL THAT WE OFFER AND DON'T HESITATE TO CALL US; WE CAN HELP YOU DETERMINE THE BEST PRODUCTS FOR YOUR SPECIFIC NEEDS. WE WILL CONTINUE TO UPHOLD OUR COMMITMENT TO PROVIDE ALL THOSE WHO SUFFER FROM INCONTINENCE AND THOSE WHO CARE FOR THEM THE HIGH-QUALITY PRODUCTS THEY NEED TO LIVE A MORE ENJOYABLE LIFE.
---