Incontinence and Night Leakage Might Indicate A Bigger Problem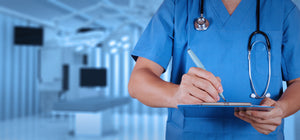 Incontinence and Night Leakage Might Indicate A Bigger Problem
If you unintentionally pass urine, you are suffering from a condition called urinary incontinence. While you might want to feel embarrassed about this… don't! It's actually more common than you think.
Over time your pelvic floor muscles, that are used to prevent urination can  wear down or can get damaged from things like childbirth and obesity etc.
Stress Incontinence -  Stress incontinence happens when your bladder is under sudden pressure, thus you begin to leak urine. Sudden pressure can result from, coughing, sneezing, laughing, exercising, picking up a heavy object and even walking.
Urge Incontinence  - The name clearly explains this type of incontinence. Urge incontinence happens when you feel an intense and sudden urge to pass urine.
Overflow Incontinence - Overflow incontinence happens when you are not capable to completely empty your bladder. The result of not emptying your bladder is frequent leaking.
Here are some things you can do to try to prevent urinary incontinence:
Start by controlling your weight.

Avoid or eliminate alcohol and caffeine from your diet.

Exercise and stay fit. Add in pelvic floor exercises to your workout routine.
Keep in mind certain things will increase your chances of developing urinary incontinence:
Pregnancy

Vaginal Birth

Obesity

Age

Family History of Incontinence
You should see your primary care doctor if you have any symptoms of urinary incontinence. While you might think a urinary leaking is no big deal, it actually can be a sign of something bigger. Especially if you experience bladder weakness at night.
Bladder weakness specifically at night can be a sign of diabetes. Many doctors do not fully understand the link between frequent night urination and diabetes; however, it is believed that the high blood sugar increases amount of urine that is produced. If you regularly have high blood glucose levels you are more likely to pick up a UTI, which can also lead to the increased need to urinate at night.
About LIQUAGUARD® Covers and how we can help!
ALL LIQUAGUARD® COVERS PROVIDE HEAVY-DUTY, SUPERIOR PROTECTION FOR YOUR FURNISHINGS AND MATTRESSES. THEY ALSO MAKE LIFE WITH AN INCONTINENCE PROBLEM EASIER TO MANAGE, AND CAN HELP SAVE YOU MONEY IN THE PROCESS.
OUR COVERS ARE ASSEMBLED IN THE USA USING HIGH-QUALITY MATERIALS THAT INCLUDE ABSORBENT KNIT-FABRIC TEXTILES AND A WATERPROOF POLYMER BARRIER. THE POLYMER BARRIER MEETS COMMERCIAL SPECIFICATIONS FOR DURABLE MEDICAL EQUIPMENT (DME). THE COVERS ARE SHRINK RESISTANT AND THE BARRIER MAINTAINS ITS SUPPLENESS AND IMPERMEABILITY THROUGH REPEATED HOME OR COMMERCIAL LAUNDERINGS.
EASY ON AND OFF
HEAVY-DUTY ABSORPTION AND PROTECTION
STAY-PUT DESIGN
MACHINE WASH AND DRY
Click Here to see our incontinence products!
---