How to Put on an Incontinence Lift Chair Cover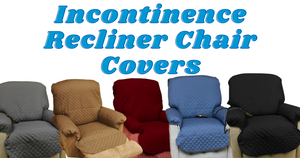 How to Put on an Incontinence Lift Chair Cover
Lift chairs are an essential piece of furniture for the elderly or others who may live with some type of disability. Think about it; getting in and out of a chair can be hard, especially for those who struggle physically.  Purchasing a lift chair can be costly, but it is well worth the investment. 
That said, if the individual for whom the chair is purchased also suffers from urinary incontinence, a whole different set of concerns arise. After all, nobody wants to experience leakage or an accident and ruin their furniture.  Urine stains are difficult to clean and the odor is almost impossible to remove from upholstered furniture. The anxiety those who suffer face regarding this can be significant; without a doubt, it impacts their lives. 
At LIQUAGUARD® we both recognize and understand this problem, and we have a solution. We stock high-quality lift chair covers that are ideal for both protecting this expensive furniture and putting your mind at ease.  In fact, our lift chair covers are available in two sizes and in a variety of colors.  Additionally, they are made of an absorbent and quilted fabric and are machine washable and dryable. Both stylish and effective, they are a must-have for lift chair owners.
Those who rely upon our lift chair covers can attest that they stay in place, providing complete coverage, and they are surprisingly easy to take on and off; a valuable trait. Our covers can be put on in just a few easy steps.   
Easy Steps To Put On Incontinence Lift Chair Cover
First, simply unfold the lift chair cover you chose and locate its top center point. Then,  place this portion over the top part of your lift chair. At this point, if your chair has a foot rest, you would want to extend it.
Once this is complete, pull the cover over the arms and sides of the chair.  Then, move to the footrest Once this is done, you can address the chair cushions, taking care to tuck in any excess fabric as you go.  Once the lift chair is smoothly covered, with no pulls or wrinkles, your job is complete. From beginning to end this should only take a few minutes. 
It is not surprising that your lift chair cover may become soiled.  When this happens, remove it and throw it in your washing machine and dryer. Then put it back on.  In many cases, families purchase two covers. That way, when one needs to be cleaned, they can immediately use the other, and access to a protected chair is always available. 
Lift chairs are life-changing for those who use them. Thus, protecting them is critical. The LIQUAGUARD® incontinence lift chair cover provide maximum protection in a stylish manner - they are unobtrusive and simply appear as part of your home's decor. 
We welcome you to view our inventory. We are proud of these covers as they protect not only your lift chair but also your dignity.  
---