Can Incontinence Be Caused By Pelvic Floor Disorders?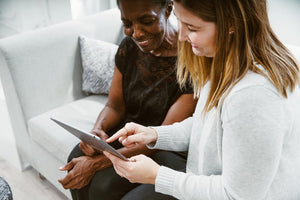 Can Incontinence Be Caused By Pelvic Floor Disorders?
Can incontinence be caused by pelvic floor disorders? If you or someone you know suffers from incontinence, this is a question you may have heard before. Of course people are asking questions. After all, it's common to want to understand the causes of our problems.
So many people suffer from incontinence. In fact, according to the Urology Care Foundation, "A quarter to a third of men and women in the U.S. suffer from urinary incontinence."  And, as women age, disorders become more common. With so many suffering, the question "why" is often asked. And, pelvic floor disorder is often mentioned as a possible cause.
The University of Chicago Medicine Center shares that "Pelvic floor disorders occur when the "sling" or "hammock" that supports the pelvic organs becomes weak or damaged." Studies have shown that women tend to suffer from pelvic floor disorders more often than men. Additionally, these disorders can cause urinary incontinence.
Causes of pelvic floor disorders in women are broad based and include, but are not limited to, obesity, heavy lifting, childbirth, surgery and aging.  In addition to incontinence, urinary tract infections and bowel issues are also symptoms of pelvic floor disorders.
What You Can Do
If you are suffering from incontinence,  visit your doctor for help in understanding why. Should a pelvic floor disorder be the diagnosis, there are a number of minimally invasive steps you can take. Among those doctors suggest are:
Kegel Exercises

: Designed to strengthen the pelvic floor, the beauty of these exercises is that they can be done with no equipment. These may help bladder control over time.

Pelvic Floor Physical Therapy

:  Consider reaching out for additional assistance from a physical therapist.  Different types of exercises and hands-on therapies may be what you need.

Losing Weight:

If your pelvic floor disorders are a result of obesity, losing weight may lessen some of your symptoms. You should always speak with your doctor before undertaking any weight loss regimen.

Medicine and Surgery

: There are more invasive treatment options available for those who may still suffer, even after making changes. Your doctor will be able to share these options with you.
Pelvic Floor Disorders Can Cause Incontinence
Clearly,  pelvic health issues, like pelvic floor disorders, can be a cause of incontinence in some people. That said, if you suffer from incontinence, you should absolutely see your doctor and discuss your specific issues.  He or she can help recommend steps you can take to alleviate symptoms as well as identify the cause of the problem.
WHILE INCONTINENCE CAN BE FRUSTRATING AND EMBARRASSING, THERE ARE MANY THINGS YOU CAN DO TO HELP YOURSELF OR THOSE YOU KNOW WHO SUFFER BETTER MANAGE THIS CONDITION. 
AT LIQUAGUARD® WE RECOGNIZE HOW DIFFICULT INCONTINENCE CAN BE TO MANAGE, BOTH PHYSICALLY AND EMOTIONALLY.  WE ARE PROUD TO SUPPLY A BROAD RANGE OF PRODUCTS TO MAKE LIVING WITH INCONTINENCE A LITTLE BIT EASIER.
VISIT OUR WEBSITE TO SEE OUR COMPLETE INVENTORY.  AND, CALL US WITH QUESTIONS. WE LOOK FORWARD TO HELPING YOU FIND THE BEST PRODUCTS FOR YOUR NEEDS. WE CAN HELP IMPROVE YOUR QUALITY OF LIFE.
---